Chandler Sigmon, MA, LCMHC, NCC, ADHD-CCSP - Owner
Chandler is a Licensed Clinical Mental Health Counselor. She received her master's degree in Professional Counseling from Liberty University in August of 2019. Chandler works mostly with children, adolescents, and young adults. She specializes in ADHD, behavioral problems, anxiety, depression, and family interactions. As Chandler states, "My ultimate goal is to help children and families navigate through life." Her therapeutic approach is primarily within the field of Cognitive Behavioral Therapy because, "So many issues facing people today have to do with their mindset and the behaviors that follow." As of April 2023, Chandler became an ADHD Certified Clinical Services Provider because ADHD is a passion for her and she wants to provide quality care and education to her clients.
Ashley Rifenburg, MA, LCMHCA, NCC
Ashley is a Licensed Clinical Mental Health Counselor Associate. She graduated from University of North Carolina at Charlotte with a masters degree in Clinical Mental Health Counseling. Ashley believes in creating warm and inviting spaces where clients can feel safe, comfortable, and valued. Ashley primarily works with children, adolescents, and young adults but has experience with all ages. She works with a wide variety of topics including complex trauma, anxiety and depression. Ashley is trained in Eye Movement Desensitization and Reprocessing (EMDR), an evidence-based treatment used for processing traumatic events and memories. In addition to EMDR, she utilizes cognitive behavioral and person centered therapy skills in her work. Ashley utilizes skills such as creative expression, art, music, and meditation to provide unique experiences for each client that is tailored to their individual needs.
Teresa Judy MA, LCMHCA, CCATP
I am a licensed Clinical Mental Health Counselor Associate. I obtained my Masters in Clinical Mental Health Counseling from Liberty University. I enjoy working with ages ranging from 5-90. I work with an array of topics including, but not limited to, ADHD, Autism, Anxiety, Depression, OCD, and Parenting. I specialize in Cognitive Behavioral Therapy & Solution Focused Therapy. I am also a Certified Clinical Anxiety Treatment Professional (CCATP).  By being an advocate for empathy and kindness, I strive to create a safe and comfortable atmosphere for all my clients to be heard and validated. 
Larry Kimel, B.A., M.Div., D. Min.
Dr. Kimel was a full-time United Methodist minister for 43 years before his retimement from the local church pastorate. He has also been a North Carolina Fee Based Practicing Pastoral Counselor, Associate beginning in 2005. During much of that time he as been a part-time counselor at South Point Counseling. His wife was a hospital administrator at CaroMont until her retirement. His daughter in Charlotte is the director of Adult Care for the DSS of Mecklenburg County.
Born and raised in Winston-Salem, NC his academic professional degrees are from UNC-Chapel Hill, Duke Divinity School, SEBTS at Wake Forest, Baptist Hospital Chaplain School, and the Carolina Pastoral Training Institute.
To his work, Larry brings a well-trained mind, years of experience and the heart of a pastor as he works with his adult clients.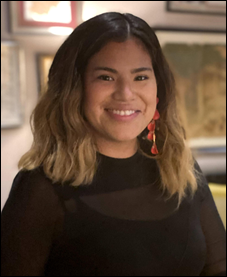 May is our new, in-person office administrator. May is deeply passionate about mental health, inspired by her own therapy journey. With an Associate's in Science in Registered Medical Assisting, she ensures clients receive top-notch care by streamlining the administrative processes. As May states, "I'm committed to client-centered care, fostering a safe and supportive environment for your wellness journey." Beyond work, May is actively involved in her church's Children and Youth Department, supporting children and young adults. 
Andi is pursuing her degree in Clinical and Mental Health Counseling from Liberty University. She has spent her life as a "counselor" and finally decided to make it official. Andi's therapeutic approach is Cognitive Behavior therapy and Emotionally Focused therapy. She believes everyone needs someone to talk to and that often they need someone who is not connected to the issues they are facing. She provides a safe, nonjudgmental space to express yourself and work towards healing.